An efficient Customer Service is getting more and more important. In the investment goods industry customer service has become one of the main purchasing factors. Fast and reliable services, especially right after a purchase, are a great benefit to you. A reliable Customer Service has to contribute to a permanent improvement of your production. This is why customer satisfaction is POLAR's highest priority and why we want to pass our know-how on to you, which we have accumulated over decades.
Training your Staff
POLAR offers training courses for customer staff and members of our sales organisations. Apart from information about new products we offer also training on machines of earlier generations.
Cutting Tests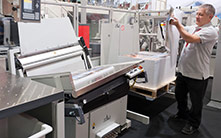 POLAR conducts cutting tests with your sample material and the established results and data will be handed out to you.
Machine Presentations
In Print Media Center in Wiesloch, we can present and demonstrate most of our machines and systems and also perform practice tests with your material. Please contact your authorized POLAR representative to arrange a convenient date for a demonstration.
Rationalization Consulting / CAD-Planning
POLAR rationalization- and application specialists take inventory of all your current equipment and collect information regarding space availability, sheet sizes, materials, job structure, number of people, investment budget, etc. Based on these information and a problem description, POLAR will work out a proposal, together with a scaled floor plan and a quotation, which will be presented to you to assist you in your decision making.
Technical Service
All our representations have factory-trained technicians available. These specialists offer a complete service for current and earlier POLAR products.
Original Service Parts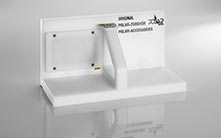 Systematically checked quality: With the use of Original POLAR service parts you decide for permanent technical safety and superior economics, because they are 100% POLAR originals.
Service Contracts
To prevent breakdowns and failures, your POLAR representation offers you a preventive maintenance service program, to assure the reliability of your POLAR equipment in the daily operation.