POLAR was founded in 1906 as "Adolf Mohr, Maschinenfabrik" (machine factory) developing from a mechanical workshop. The family's forefathers had been blacksmiths. Since that time the company has not only changed its line of products, but also developed from a regional supplier to the largest global supplier of high-speed cutters.
1906
From the first days after the company was established on 24 September, up to the Second World War, the factory had built machines for the regional timber industry in the Taunus area. Adolf Mohr was granted several patents for wood and metal working machines.
1920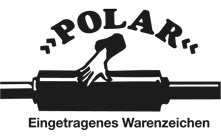 This was the year when the name POLAR was adopted. Adolf Mohr was the first manufacturer to produce ball-bearing cutter blocks. This innovation prevented the cutter blocks from overheating when they were rotating at high speed in lamina planing machines. During their operation the "poles" of the cutter blocks, i.e. the bearings, remained cool, - as cool as the poles of the Earth. So the name "POLAR" soon spread across the world along with the cutter block, which was characterized by its patented knife fixture.
1940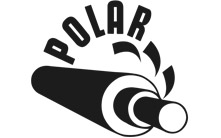 The second POLAR logotype was created. It was used until 1960
1946
Since the better known cutting machine manufacturers of that time were all based in the Eastern part of Germany, there was no such supplier in Western Germany after the war. Karl and Rudolf Mohr used their connections to the graphics trade, made the most of this unique opportunity and started to develop high-speed cutters.
1947
First POLAR cutter with electrical control system
1949
First cutter with electromagnetic clutch. Beginning of the partnership with Heidelberger Druckmaschinen.
1951
First drupa held in Düsseldorf with POLAR
1952
First cutter with electronically assisted control – light scanning system
1954
First cutter with direct optical measurement indicator at eye-level (O.M.A.)
First cutter with optical cutting line indicator
First cutter in Europe with air cushion table
1956
First cutter with direct magnetic tape control - ELTROMAT
First cutter with self-adherent SINUS cutting stick
1957
First cutter with fixed stack lifts
1958
First cutter with flexible false clamp
The 5,000th POLAR machine was sold at the 1958 drupa
1960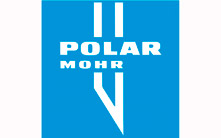 Third POLAR logotype. Used until 1992
1961
First cutter with air conveyor system
1962
First cutter equipped with retractable side gauges
The 10,000th POLAR was sold at the 1962 drupa
1963
First cutter with hydraulic clutch
First cutter featuring mechanical knife change
1965
First cutter equipped with a monitor - POLAR Telexact (precondition for fully automatic remote control and external programming)
First cutter equipped with tilt tables
First cutter equipped with air-pallet system
1967
First cutter equipped with identical lay guides on the cutter and the printing press - FIXOMAT
The first cutting school worldwide was founded in Hofheim
The 20,000th POLAR machine was sold at drupa '67
1969
The new POLAR high-speed cutter generation, models 90/ 115/ 150
1970
First cutter with loading and unloading systems – POLAR Transomat
1971
First cutter with diagnostic service via test computer (POLAR Dignotest)
1972
First cutter with electronic limitation of the backgauge movement
1976
First cutter offering fully-automatic loading - Transomat 3 BL
1977
First computer-controlled cutter with exchangeable electronic memory - ELTROMAT CNC
First cutter equipped with a direct linear measuring system
First cutter with fully automatic feeding of accurately aligned printed sheets - POLAR Transojog
1978
First cutter with microcomputer control and exchangeable electronic memory – POLAR EMC
1979
First cutter with knife lift (allowing a quick knife change)
50,000th POLAR machine worldwide
1981
First cutter with special loading device for wrapped papers: POLAR Transomat A
1982
First cutter with automatic waste removal and automatic collection of cut labels on support plates - POLAR Autotrim
1983
First cutter with piling-board buffer system
1984
First cutter with movable 12" monitor
1986
First cutter with color monitor
First cutter provided with automatic clamping pressure regulation
First system for computer assisted, external generation of cutting programs with automatic transfer to the cutting machine - POLAR Compucut
First fully automatic cutting system for multiple strip-cutting - POLAR Autocut
1988
New construction, first part of "Central machine assembly"
1989
New construction of "Center of technical offices and show rooms"
POLAR footbridge, Hattersheimer Straße (27 June)
First cutter with automatic graphic programming and program optimization
1990
First cutter with 64-KB (mobile) memory card
First cutter equipped with turning gripper
First fully automatic system for marking counted layers of printed sheets and accurate separation of layers from piles: POLAR Chip-Marker
First cutter with front quick-knife-change, front precision adjustment and automatic stop at bottom dead center
First automatic blowing and fanning device to facilitate the jogging process
1992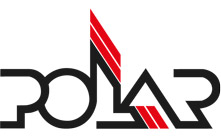 POLAR 176, the new high-speed cutter for large size formats
introduction of a new POLAR company image and concept - POLAR 2000, including POLAR company logo no. 4
1995
New high-speed cutter generation featuring e.g. color display and process visualization
POLAR 78
100,000th POLAR machine (drupa '95)
First cutter with cut optimization (accelerated cutting sequence)
1996
POLAR 66, the new high-speed cutter for small printed items
First Company Certification to DIN EN ISO 9001
New construction, second part of "Central machine assembly"
1997
New generation of POLAR peripheral equipment (stack lifts, automatic joggers, Transomat units)
New POLAR 78 (ES/ED) generation
New central warehouse (with goods receiving department)
POLAR is on the Internet
1998
New staff building
New Transomat B series
POLAR acquires a 51% share of bandpack
1999
New central peripheral equipment assembly facility
New shipping warehouse
POLAR COMPUCUT wins "GATF Award"
POLAR develops a pile turner
New automatic jogger RAH
New piling-board shelf STR
New paint shop
2000
First high-speed cutter suitable for video conferences: PCM (POLAR Control Management)
POLAR Label Systems
Recertification to DIN EN ISO 9001
2002
First fully-automatic cutting system allows production to be performed without any operators
POLAR takes over bandpack (100%)
2003
Introduction of the10th generation of POLAR high-speed cutters, with 15"-TFT color monitor, touch screen, new knife change system called OptiKnife, and P-Net networking concept
Start of PACE, a communication with automated cutting systems (short for POLAR Automated Cutting for Efficiency)
A new extension of the peripheral plant is completed
2004
At drupa, a new line of banding machines is presented (BD single-station banders and BM-105 multi-station banders), Autosort multi-downstacker, new Autoturn turning gripper and a fully automated jogging system called Autojog.
Interactive training program available on the Internet
2005
Foundation ceremony for the new spare parts warehouse
Start of construction work for manufacturing facilities in China
2006
100-year company anniversary
Opening of the new POLAR Service Center (PSC) which provides a highly efficient warehouse and dispatch system
Opening of POLAR Postpress Machinery (PPM) in China, with approx. 40 employees
125,000th POLAR machine worldwide
2008
drupa with many innovations and options (amongst others TwinClamp, CountMonitor, PowerMonitor)
130,000th POLAR machine worldwide
2010
Launch of the PickStack restacking station
2011
Introduction of the bar-code scanner and the new counting scale
2012
drupa: Introduction of the new High-Speed Cutter Generation N
The product line is extended by a hydraulic 56 cutting machine
NET control variant
2013
Launch of the BC 330 3-side trimmer
Compucut 5.0
POLAR celebrates 55 years of peripheral equipment
2014
POLAR presents world novelty: EasyLoad
Exclusive distribution with Guillo-Crease
2015
Mohr-Shop Consumables and accessories for cutting
machines can now also be purchased online
2016
10 years of POLAR Postpress Machinery
2017
POLAR celebrates 111 years with anniversary machines
Automation of the cutting process
New look for the Polar logo design
POLAR invests in new training centre
Compucut GO is launched: the simple "plug and play" variant for cutting programme generation
2018
The new Transomat 4BL loads the material directly onto the high-speed cutter rear table
2019
FARM (Fully Automated Ream Management): In addition to the established PACE systems, Polar also offers concepts and the implementation of individual automation solutions
2020
Drupa 2020 is cancelled due to the Corona pandemic. Other trade fairs also follow. The next Drupa will take place in 2024.
POLAR introduces live demos
New safety device on high-speed cutters: self-monitoring light barriers
POLAR presents the AirGo Jog: Fully automatic, edge-precise material preparation
New minimum format for LabelSystem SC 25: 11 x 27 mm
2021
POLAR celebrates 115th company anniversary
15 years of POLAR Postpress Machinery
POLAR presents world innovation DC-12 Rapid, the fully autonomous system for label production
POLAR integrates future-proof new industrial control system that enables remote service (remote diagnosis and maintenance) for further improved machine availability and integration into the digital workflow.