POLAR CuttingSystem 200 PACE
Cutting System characterized by highly-automated processes for medium-size products
For medium-size products, with cutting materials sized up to max. 75 x 106 cm, POLAR CuttingSystem 200 PACE automates finishing processes. The word "PACE" stands for "Polar Automation for Cutting Efficiency" and implies that material is moved with fully automatic turning gripper systems.
In POLAR's CuttingSystem PACE gripper loading systems fetch the reams from automatic joggers, air-pallet lifts, piling-board shelves or Transomat B units and take them onto the rear table.
POLAR turning grippers called Autoturn automatically rotate undivided reams on the high-speed cutter rear table.
Cutting systems of performance class "PACE" raise the efficiency of POLAR CuttingSystems by up to 100 percent compared to a conventional CuttingSystem 200.
The workflow: A loading lift takes the material to be cut onto the optimal working height for the operator who puts it on the automatic jogger. After jogging is completed, the Autotrans gripper system transports the material onto the rear table of the high-speed cutter. On the rear table, the Autoturn turning gripper moves the material in an automated way. After cutting is completed, the POLAR Transomat E unit automatically stacks the reams on pallets while cutting can be continued.
POLAR components are also available with optional performance-enhancing features: Precise measurement of quantities with the counting-scale component.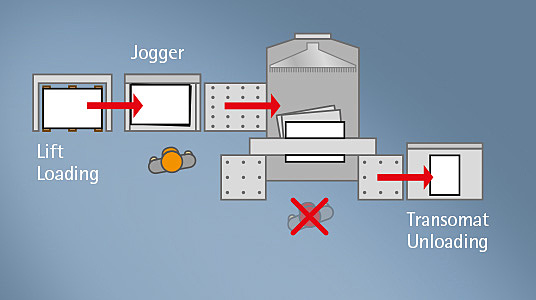 | | | |
| --- | --- | --- |
| Components / Technical Data | | Medium size |
| Paper size | cm | 75 x 106 |
| Stack Lift LW (loading) | Type | LW 1200-4 |
| Automatic Jogger | Type | RA-4 |
| Gripper loading system | Type | Autotrans and Autoturn |
| High-Speed Cutter | Model: | POLAR N 137 AT |
| Transomat E | Type | TRE 130-4 |