POLAR CuttingSystem 300
Efficient cutting system with semi-automated components for large-size
Precise cutting results do not necessarily require jogging for precisely aligned edges. Non-printed or prepared material can be processed without any jogging cycle.
POLAR's CuttingSystems 300 work especially ergonomically when handling large sizes. Cutting materials sized 126 x 164 cm are loaded on the high-speed cutter, cut and restacked on pallets in semi-automatic processes. This is a performance increase of up to 100 percent, and a substantial improvement of ergonomic conditions.
The workflow: Transomat TR 3 BL automatically pulls the material being cut from the stack onto the Transomat pallet and a pusher takes it to the right position where Autotrans gripper-loading system takes it and transports it to the high-speed cutter rear table. After cutting, the Transomat E unit automatically stacks the completed reams on pallets. While the cutting machine is unloaded the new ream to be cut can be transported onto the rear table.
Optional POLAR components with performance-enhancing features are available :
High-speed cutter models POLAR N "PRO" and POLAR N "AT" further optimize the overall output of the systems.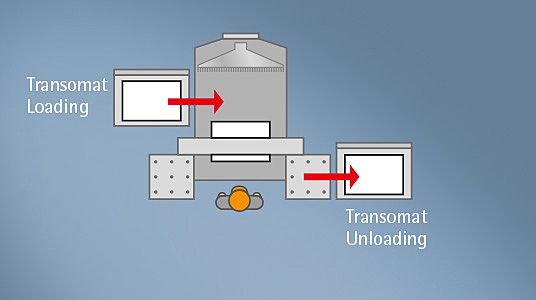 Components / Technical Data
Large sizes
Paper size
cm
89 x 126
102 x 145
126 x 164
Transomat E
Type
TRB 160-6
TRB 160-6
TRB 160-7S
High-Speed Cutter
Model:
POLAR N 155
POLAR N 176
POLAR N 176
Gripper loading system
Type
Autotrans
Transomat E
Type
TRE 160-6
TRE 160-6
TRE 160-7S