POLAR LabelSystem SC-20
Ideal entry-level model for industrial label production
The central component of LabelSystem SC-20 is automatic cutter POLAR 137 Autotrim M which efficiently produces square-cut labels. Since POLAR's automatic cutter Autotrim M cuts both strips and labels, no strip cutter or feeder table is required. The material for producing labels must be available in the form of a jogged ream.
The workflow:
The material is either manually fed via the front table, or automatically via the rear table. First of all the operator cuts the material into strips. In the automatic cutter these strips are positioned, before they are laterally aligned on the rear table before cutting. After that, the individual products are automatically cut to labels.
After the labels have been cut, they are arranged on the front table. A deloading device pushes them into the BM-105 multi-station bander. After that the row pusher takes the complete label row to the banding device. The completely banded packs are pushed further onto the delivery table from where they can be manually removed for packaging.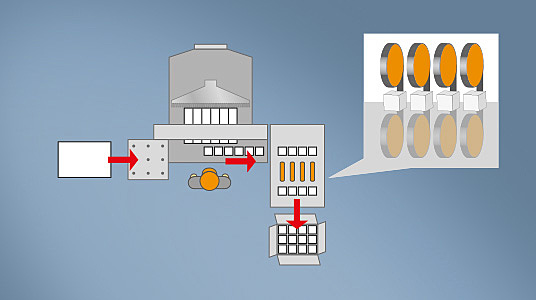 Technical Data
Label size, min. (depending on the clamp opening)
20 x 43 mm
Label size, max.
230 x 1050 mm
Clamp opening, min.
20 mm
Clamp opening, max.
120 mm
Banding stations, max.
18 units
Performance in automatic operation, max.
(depending on the material and/or label size)
4 cycles / minute